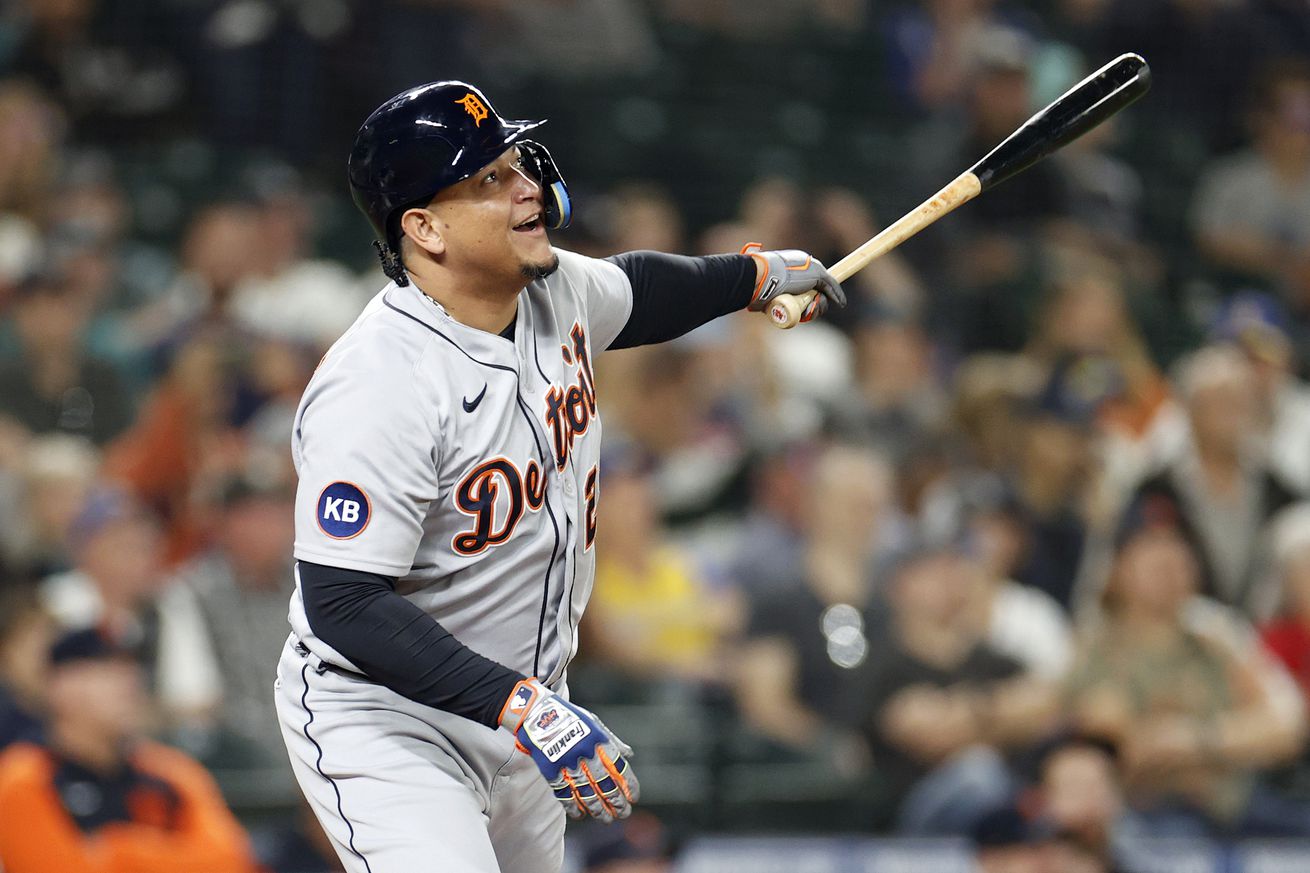 One last ride for Miggy.
The Detroit Tigers began their rebuild about the same time as the Royals, and after a 77-win 2021 season, it looked like they were on a faster trajectory. But despite some big free agent signings, the Tigers slumped back to the bottom of the standings with the Royals last year. Like the Royals, they now find themselves with a new executive in charge, counting on improvement from a lot of young players, with not much expected help from a thin farm system.
The Tigers took a much different direction this off-season under new GM Scott Harris. They traded away top relievers Joe Jiménez and Gregory Soto for prospects and the most notable free agents they added were pitchers Matthew Boyd and Michael Lorenzen. Over a quarter of their $120 million projected payroll will go to future Hall of Famer Miguel Cabrera, who has announced this will be his last season.
Detroit Tigers
2022 record: 66-96, fourth place
2023 PECOTA projection: 65-97
ZIPS projection: 72-90
Manager: A.J. Hinch
Key additions: Matthew Boyd, Michael Lorenzen, Nick Maton, Tyler Nevin, Chasen Shreve, Matt Vierling, Trey Wingenter
Key losses: Tucker Barnhart, Jeimer Candelario, Harold Castro, Willi Castro, Andrew Chafin, Joe Jiménez, Victor Reyes, Gregory Soto
Offense
The Tigers finished dead last in home runs, walks, and runs scored last year, and Eric Haase was the only player with at least 300 plate appearances who had an OPS+ of 100 or better. Javier Báez signed a six-year, $140 million deal, but was a major disappointment in his first season in Detroit. Infielder Jonathan Schoop was the worst qualified hitter in baseball last year. Most disappointing was the debut season of former #1 overall pick Spencer Torkelson, a power-hitter in college who hit just eight home runs with a paltry slugging percentage of .319 with Detroit.
The Tigers are hoping Nick Maton and the speedy Matt Vierling, acquired from the Phillies for Soto, can become solid regulars. Riley Greene had some injury setbacks his rookie season but ended his season strong and is just 22 years old. Austin Meadows was a solid slugger with the Rays, but suffered from physical ailments and anxiety in his first season in Detroit.
Pitching
The Tigers built up a stable of young pitchers through the draft, but nearly all of them have either been ineffective or have been felled by injuries. Former first round pick Casey Mize will likely miss the season after Tommy John surgery, and the club is hoping to get Tarik Skubal back by mid-summer. Matt Manning is the best young pitcher that is healthy to begin the year, although he was limited to 12 starts due to a forearm strain. Kansas City native Joey Wentz looks to make the rotation after seven solid starts last year.
Detroit's rotation will also feature veterans returning from time off. Eduardo Rodriguez missed several months last year attending to family issues. Matthew Boyd had made just 27 starts over the last three years combined. Spencer Turnbull returns after missing all of last season following Tommy John surgery. The bullpen has two promising arms in Alex Lange and Jason Foley, and a lot of question marks.
It's hard to look at the Tigers roster and not see them finishing with one of the worst records in baseball. Perhaps if their pitchers bounce back better than expected, if Meadows and Baez rebound, if Torkelson lives up to his draft slot, and if Riley Greene becomes a star, maybe they won't be so bad. But it looks like Harris will have to rebuild the rebuild to get the Tigers moving in the right direction.