Contract negotiations between the Chiefs and star DT Chris Jones still haven't gained much traction, per James Palmer of the NFL Network (video link). Jones, who is one of five franchise-tagged players yet to sign his franchise tender, did not participate in Kansas City's virtual offseason program.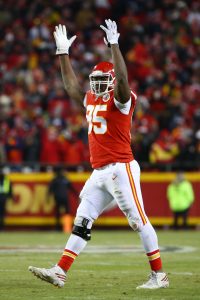 Jones was also pushing for a long-term deal last year, and he skipped the 2019 offseason program in an effort to make that happen, but he did not get his wish. Nothing of note transpired on the contract front throughout the 2019 campaign, and Jones was hit with the franchise tag in February. He expressed frustration with the process about a week later.
"It's like a mix of emotions," Jones said. "Because you figure, you know, after four years, you do everything the right way, within the team way, you try to stay under the line, out of trouble, and be a good citizen for a team and for the city, you expect to be rewarded. … It's like, 'Man, what else you want me to do?'"
Those comments were made before COVID-19 sent the entire country into lockdown, and the pandemic has brought already slow negotiations to a standstill. Nonetheless, the Chiefs have consistently maintained that they want to get a deal done with Jones, and Palmer reports that nothing has changed in that regard. The team has until July 15 to work out an extension, and it hopes to have a better idea of what the 2021 salary cap will look like prior to that date so it can make a well-informed decision on Jones.
In addition to the Jones talks, the team is also discussing what will surely be an otherworldly contract for QB Patrick Mahomes, but there is no imminent deadline on the Mahomes negotiations. Jones, whose franchise tender would pay him $16.1MM in 2020, has been pushing for a deal with an AAV of about $20MM, so even if the Chiefs do get a little clarity from the league before July 15, they will have a lot of work to do and not much time in which to do it.
Photo courtesy of USA Today Sports Images.