In the least surprising development in the short history of the fifth-year option, the Chiefs will pick up Patrick Mahomes' 2021 option. Not that this was ever in doubt, but NFL.com's Tom Pelissero confirms the team plans to do so as a placeholder while extension talks loom (video link).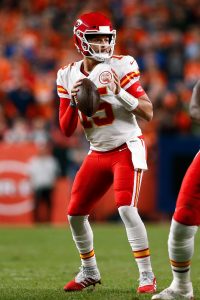 Since the Chiefs traded from No. 27 to No. 10 in 2017, Mahomes changed the franchise's fortunes. The 2018 MVP and Super Bowl LIV MVP led the Chiefs to their first title in 50 years and has them positioned as betting favorites to win Super Bowl LV.
As for a Mahomes extension, the expectation remains talks will ramp up at some point between now and the season. The latest coming out of Kansas City is a Chiefs hope to have Mahomes' deal done before training camp, Pelissero adds (via Twitter).
Going into his age-25 season, the superstar passer can be expected to approach or surpass the $40MM-per-year barrier. This comes as Dak Prescott and Deshaun Watson are discussing extensions, which could further raise Mahomes' price. Mahomes' rookie contract calls for an $825K 2020 base salary, a setup that would seemingly drive negotiations.
Despite cost-cutting moves like the Sammy Watkins pay cut and the release of Dustin Colquitt, the Chiefs have barely $5MM in cap space and Chris Jones attached to a $16.1MM franchise tag. Some of the $5MM will be needed for Kansas City to sign its draft picks. The Chiefs continue to work on a Jones deal, which would help create 2020 cap space, even though they already have Frank Clark tied to a $20MM-plus-AAV contract.
Photo courtesy of USA Today Sports Images.